Welcome
Recording AVI PEARCE is fulfilling the wealth garden of music.

Avi Pearce is a World-pop fusion artist who versifies and carries throughout variety of musical styles such as Po- World fusion, Adult Contemporary, power punk pop… She has a wide vocal range with a modern fresh vibe that stands out as well she has a conventional style of vocal. Avi's music is truth originated and made to extend beyond the ordinary musical World.
Recording AVI PEARCE is
Her music career has driven by
* 2011 HOLLYWOOD MUSIC IN MEDIA AWARDS NOMINATION for her newest song "MOONLIGHT"
* 2 CONSECUTIVE HOLLYWOOD MUSIC AWARDS NOMINATIONS, 2008 AND 2009.
* 2 CONSECUTIVE BILLBOARD MUSIC RECOGNITIONS HIT SONGS WRITER, 2008 AND 2009.

A special composition by Avi
" You are the World aka Be the Change" was born to embrace the 2010 music concert Haiti benefit.
Play it now

Avi Pearce at the 2008 Hollywood Music Awards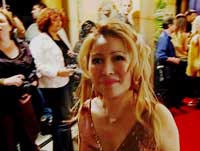 Avi Pearce at the 2011 Hollywood Music in Media Awards