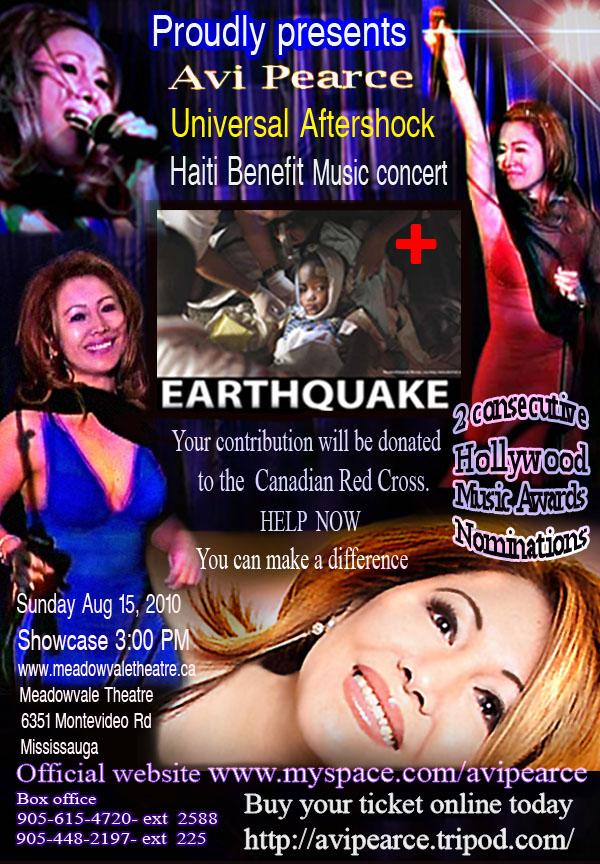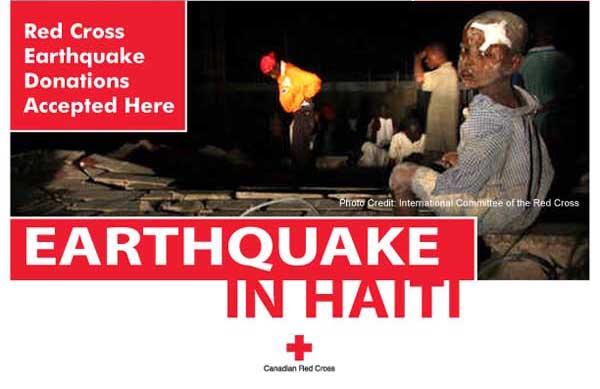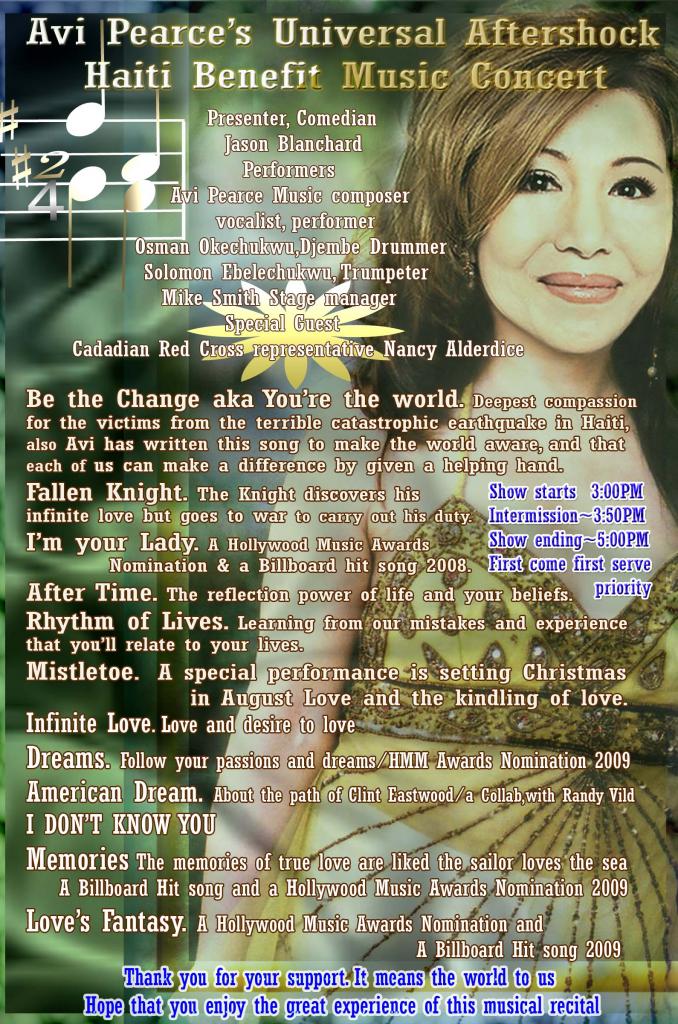 Pass event's Program
Meadowvale Theatre, Mississauga
Aug 15, 2010
Avi Pearce's Universal Aftershock
Haiti Benefit Music Concert
Presenter, Comedian
Jason Blanchard
Performers
Avi Pearce Music composer
vocalist, performer
Jason Pierce, Drummer
Solomon Ebelechukwu, Trumpeter
Osman Okechukwu,Djembe Drummer
Cadadian Red Cross representative Nancy Alderdice
**************

Songs performances program
Be the Change aka You're the world. Deepest compassion
for the victims from the terrible catastrophic earthquake in Haiti,
also Avi has written this song to make the world aware, and that
each of us can make a difference by given a helping hand.
Today you'll have the taste the brilliant medieval
depictions. Avi will be delivered exquisitely with
passion and fantastic mysterious
in the song FALLEN KNIGHT
I'm your Lady. A Hollywood Music Awards
Nomination & a Billboard music hit song 2008.
After Time. The reflection power of life and your beliefs.
Rhythm of Lives. Learning from our mistakes and experience
that you'll relate to your lives.
Mistletoe. A special performance is setting Christmas
in August Love and the kindling of love.

**************
Dreams. Follow your passions and dreams/HMM Awards Nomination 2009
American Dream. About the path of Clint Eastwood/a Collab,with Randy Vild
I DON'T KNOW YOU
Memories The memories of true love are liked the sailor loves the sea
A Billboard Hit song and a Hollywood Music Awards Nomination 2009
Love's Fantasy. A Hollywood Music Awards Nomination 2009
and A Billboard music Hit song 2009
Show starts 3:00PM
Intermission~3:52PM
Show ending~5:00PM
First come first serve priority